Honda Dealership Tires in Schenectady, NY
Mohawk Honda enrolled in the tire program offered by American Honda over 10 years ago. At present, we stock over 275 tires for all vehicles. Our purchasing power has allowed us to pass on the savings to our tire customers.
Order Honda TiresTire Specials
Free Tire Inspection

How Do Tires Lose Pressure?
Tires naturally lose pressure through the process of permeation or air passing through the pores of the tire. Changes in outdoor temperature can affect the rate at which tires lose air. This change is more pronounced in hot weather. Generally speaking, a tire will lose one or two points of air pressure per month in cool weather and even more in hot weather. Remember, under-inflation is the leading cause of tire failure, so check inflation pressure regularly.
Where to Find the Correct OE Inflation Pressure
You will find the original equipment (OE) recommended pressure on a placard, check the owner's manual or consult the vehicle manufacturer, tire manufacturer, or your local tire dealer. The tire placard tells you the maximum vehicle load, the cold tire pressure, and the tire size recommended by the vehicle manufacturer. Air pressure may be different for front and rear tires. If your vehicle no longer is equipped with the OE size tires, consult your Toyo dealer for proper inflation information.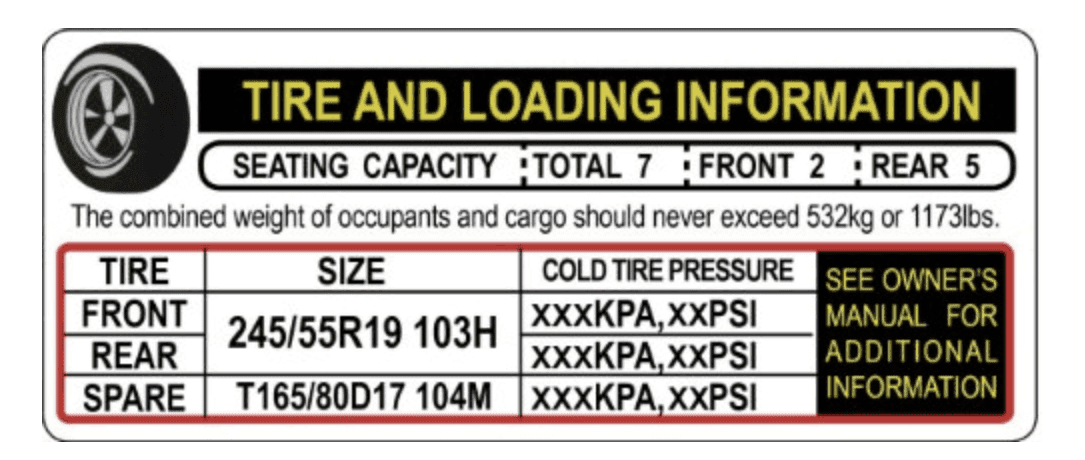 About Tire Rotation
The purpose of regularly rotating tires is to achieve a more uniform wear for all tires on a vehicle. Rotation is important because each tire on a car carries a different amount of weight, making them wear at different rates. By rotating them, you basically even out those differences. Follow your vehicle owner's manual for the appropriate rotation pattern for your vehicle.
Our Limited Warranty recommends rotating your Toyo tires every 3,500 miles or less for high-performance (low profile) tires and every 7,500 miles or less for standard passenger and light truck tires. More frequent rotation or a thorough vehicle inspection may be necessary if upon inspection you see signs of uneven wear. If your tires show uneven wear, ask your Toyo Tires dealer to check and correct any misalignment, imbalance, or other mechanical problems before rotating tires. After rotation, adjust individual tire air pressures. See the proper inflation section for details.
Popular Rotation Patterns
The following are popular rotation patterns. However, some tires cannot be rotated according to popular patterns. Such tires include uni-directional tires with asymmetric tread designs. Also, some vehicles may have different sized tires mounted on the front and rear axles, and these different sized tires may also have rotation restrictions. Check your owner's manual or visit your Toyo Tires dealer for recommendations for these special cases.